Phoenix Law Office



Breen, Olson & Trenton is a full service law firm practicing in the Phoenix, Arizona area. We have a dedicated, highly educated staff of business attorneys, real estate attorneys, intellectual property attorneys, estate planning attorneys, and bankruptcy attorneys all capable of complex legal analysis. This means we synthesize your specific facts with the current legal precedent and objectively go through every step to provide you with a meaningful picture.

Legal analysis and strategic thinking are the foundation to creating relationships that will last. Let Breen, Olson & Trenton, LLP, become your strategic partners, navigating the complex legal arena, helping resolve all your maters by providing you and your business with legal analysis and strategic thinking.

Our mission is to assist businesses and individuals in the Phoenix area with any legal matters they may be facing. We offer a unique blend of professionalism and sophistication that's delivered with a personal touch to every case we take on. Our dedicated group of attorneys, paralegals and support staff bring decades of legal experience to the table. We present cost effective solutions to your legal needs in the areas of business law, real estate, intellectual property and patent, estate planning, and bankruptcy. We provide the residents of Phoenix the comfort of representation by a firm that is knowledgeable and accessible.

Our Phoenix office serves the entire area of central Arizona. If you are looking for an attorneys in southern Arizona and southern California we also have offices in Tucson and San Diego. No matter which location you visit, you can be assured that you will be well represented and that your interests will be at the top of our list. We strive to maintain the highest quality of customer service and know our clients value the hands-on approach we use. Our firm is committed to understanding and resolving the full scope of personal and business needs that any client might anticipate.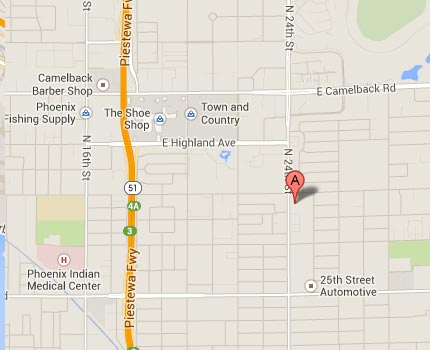 View Larger Map



4425 N. 24th Street Suite 150

Phoenix

,

AZ

85016

Phone:

602-732-7272

Fax: 520-844-1618